At the Symposium I had the pleasure of meeting Laura (and her mom) from Striped Shirt.  If you have ever seen me in real life, you know that 78% of my shirts are striped.  It's just how I roll. So I was instantly drawn to her booth to see just how awesome the striped shirts were.
Let me tell you. I fell in love. Instantly.  Gabby and I were listening to Laura talk about how they live in Austin (Texas, Represent!) and she liked striped shirts so she figured she'd make a business out of it. But the whole time she was talking, I was eyeing this tiny wonder.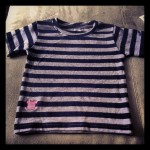 Normally you can tell who dressed Addy because she looks like a tiny version of them.  What's more tiny Bre than a gray and black striped shirt? NOTHING. I just took the 2T shirt off the table.  SOLD.  I needed…I mean Addy needed it.
After a brief conversation about Austin, blogging, and tattoos, Laura told me that she loved working with bloggers and we should email and what not.  Much to my surprise, she sent me a Bre sized version of the Addy shirt! Pictures ensued!
[shashin type="photo" id="238,240,242,243,224,247,234,233″ size="small" columns="3″ order="user" position="left"]
OMG I could not believe how comfortable the shirt is.  So many people have gone towards the sheer shirts that require another shirt underneath (read: double laundry) and they still are not as cute or comfortable as my Striped Shirt was. I was literally in the thing all day.  It fit wonderfully, had just enough stretch to it, and was still cool when the "fall" weather hit 95 degrees.  Addy's shirt survived the park, snack time, nap time, lunch time, and YaYa time with no damage.  Juice and noodles and fruit wiped right off.  Yay cotton!
What else did Larua's awesomeness provide me?
A GIVEAWAY!
YES!!! Laura is giving one of my lovely readers a Striped Shirt of their choice.  Have a tiny baby? No problem, they start as small as 6 months! Want to go for your school colors? They have all sorts of striped combinations!
What do you have to do? Enter with the Rafflecopter widget below.  Easy peasy like.  Winner will be picked next Sunday night and announced Monday morning.
*this review is my own opinion of awesomeness, I did not receive any money, just the shirt for review