It's our last Add It To My List for the year! Lauren and I want to know what you're adding to your list as well as an good holiday traditions you have.
Little Fires Everywhere – Celeste Ng
I'd been reading a lot of heavy things and I thought this was going to be a light read (listen actually) but it wasn't.  Shaker Heights, Ohio is a master master planned neighborhood.  Down to how the alleys are built to hide the trash cans.  The Richardsons are a family with privilege and their world is turned upside down when artist Mia Warren and her daughter Pearl come into their lives.
But what's good is that a few weeks ago I went to this author panel and they went on and on about how they don't care for background and flashbacks aren't the way they write but obviously there's no one way to write and Ng spends all the time developing characters and giving background and flash backs.
And I've read all the American Beauty white family has minor complications and it's oh so terrible and I'll continue to do so, but this one stuck with me.  I'll be checking out the other Ng books.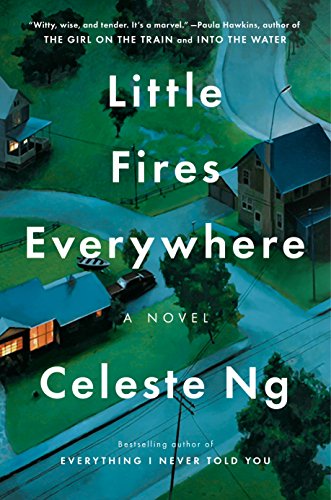 Coco
Ok. So Disney is full of shit for putting a 20 minute Frozen featurette in front of a Pixar movie.  It's unprecedented and terrible.  Not the featurette itself, it's not the best, but it should have easily been a 30 minute ABC Family/Disney Channel special. Whatever.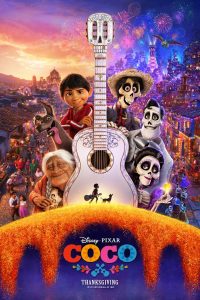 BUT Coco is so good that you will sit through Anna and Elsa and Olaf sing about holiday traditions.  Coco is about Miguel, a young Mexican boy whos family has banned music from his life. They make shoes and they stick together and they put photos out on the ofrenda for the family that has passed and wants to come to the other side for dia de los muertos.  But he makes a mistake and ends up stuck in the land of the dead.
No spoilers because I cry watching basically every movie, but even Addy was like "I'm not crying! My eyes are just watering!".
It's about family and not princesses (princesses are okay in moderation) and figuring out what you want to do with yourself and what is important to you.
Also Gael Garcia Bernal is the voice of one of the characters and he is Mozart Bae.
(And now I want to stay up for 2 days and watch Mozart all over again).
Christmas Breakfast!
My family does Christmas breakfast.  You should greatly consider it.  We wake up, open gifts at our house, and before we can get hangry, we head to my moms house for more presents, but also PANCAKES. OMG CHRISTMAS MIRACLE.  Someone brings everything.  An aunt makes grits.  We bring juice.  Someone makes eggs. Someone makes hash browns.  Breakfast takes all of 20 minutes.  And then you get to play with all your toys and watch the rest of the the Christmas Story marathon.
Plus you still have the rest of the day to see other friends and family, or do like we do and stuff into a car and catch a movie.
Go ahead and add your blog to the link up OR just let me know what you've added to your list this month!